I'm very proud of my relationship with Nintendo. And I'm grateful for the IGDA empowering me to use that relationship to benefit the community. Earlier this year, I was able to arrange a wonderful Q&A with Nintendo Treehouse members — Tim O'Leary and Reiko Ninomiya — at GDC.
The #IGDAScholars learn about localization from our @NintendoAmerica speakers, @GhostofTim and Reiko Ninomiya! pic.twitter.com/7bmIAx5jhC

— IGDA Scholars (@IGDA_Scholars) March 18, 2016
Thank you @GhostofTim and Reiko Ninomiya for speaking with our #IGDAScholars! It was a hoot! pic.twitter.com/RHyYiMmVZ5

— Erich Schuler (@erichschuler) March 18, 2016
Thank you @IGDA_Scholars for allowing us to come and chat with you, It was an honor and a hell of a good time. The future is in good hands!

— Tim O'Leary (@GhostofTim) March 19, 2016
Thanks to @erichschuler for coordinating our chat with the @IGDA_Scholars. Best point of GDC. Keep up the great work!

— Tim O'Leary (@GhostofTim) March 19, 2016
This time, I was communicating with Nintendo about running an officially endorsed Mario Kart tournament at SIEGE!
SIEGE 2016
For those who do not know, SIEGE is short for Southern Interactive Entertainment and Games Expo. I can best describe it as a really small Game Developers Conference in the heart of the South — Atlanta.
Before I moved to Tokyo in late 2014, I was part of the SIEGE organizational committee. It doesn't seem much has changed during my absence in 2015. SIEGE still remains cozy as the small, but beating heart of Atlanta's game development community.
Due to constraints, I refrained from returning to my previous involvement with SIEGE.  This time my involvement with SIEGE was as a board member of IGDA Atlanta. Our 2nd annual Game Studio Smackdown was being hosted at the conference!
Planning Game Studio Smackdown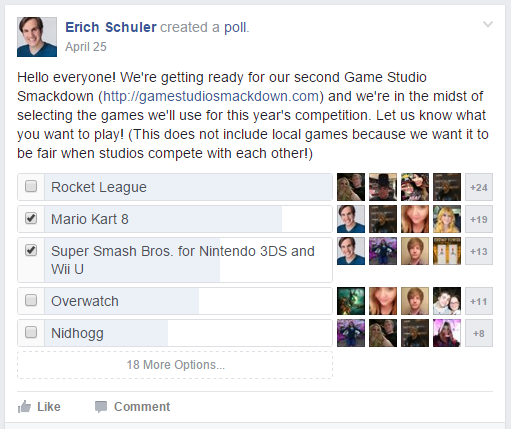 Game Studio Smackdown touts itself as a game tournament by game devs, for game devs. It's IGDA Atlanta's event to help unite the game dev community in camaraderie. It was a hit last year, so the board was eager to bring it back for a second time. We posted a poll during the summer which resulted in Rocket League as our most popular pick, followed by Mario Kart 8!
Get your engines revving, #MarioKart8 is a part of #GameStudioSmackdown! Go to https://t.co/NDuedR4iml to register! pic.twitter.com/wEFSiIDGJM

— IGDA Atlanta (@IGDAAtlanta) September 21, 2016
As the resident "Nintendo guy," I was placed in charge of coordinating and running the Mario Kart 8 side of the tournament, which I gladly accepted! I reached out to some of my contacts at Nintendo of America and got introduced to the legal team for the first time. It may sound odd, but I actually really enjoyed it! Serving as liaison between Nintendo and the IGDA, an agreement was formed permitting us to host the Mario Kart tournament!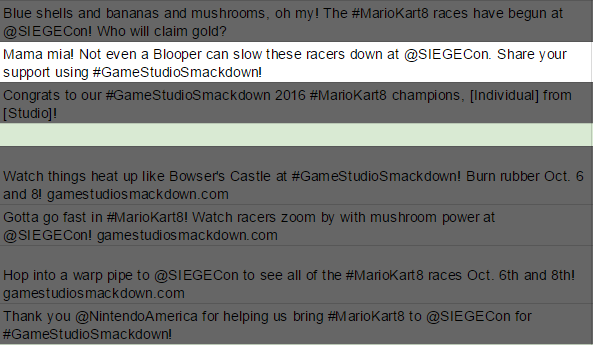 Securing the agreement was the easy part! Planning the tournament structure was the true challenge. Therefore, I recruited the help of my friend, Alex Batres. He not only had good knowledge of Mario Kart, but was keenly familiar with video game tournament structure as a competitive video game player. Together, we established a game plan which prepared us well while running the competition!
Executing Game Studio Smackdown
Thanks to Molly Proffitt (IGDA Atlanta president), SIEGE, and Battle & Brew providing the equipment, setup for the Mario Kart preliminaries was incredibly smooth! I honestly couldn't be happier.
Once again, it was a blast working with @NintendoAmerica to coordinate this Mario Kart tournament for @IGDAAtlanta! Commentating was fun! pic.twitter.com/waP85nY7mD

— Erich Schuler (@erichschuler) October 10, 2016
Alex proved to be an invaluable asset, taking ownership of maintaining the brackets while I focused on commentary. I had a lot of fun and I received good feedback about my performance during the event too!
Congrats to our #GameStudioSmackdown 2016 #MarioKart8 champion, @BatterBats! pic.twitter.com/GENn9Tnrih

— IGDA Atlanta (@IGDAAtlanta) October 10, 2016
Ultimately, Alex, who was also a competitor, became the Mario Kart champion with 50 points! All that hard work paid off for him! But for me, the best part was seeing other game devs love the game as much as I do!
Thank you @NintendoAmerica for helping us bring #MarioKart8 to @SIEGECon for #GameStudioSmackdown! pic.twitter.com/pu2uIzO3eh

— IGDA Atlanta (@IGDAAtlanta) October 10, 2016